Saturday, December 24th, 2005
---
3:09 pm
- Probably my favorite Caitlin pic EVER!!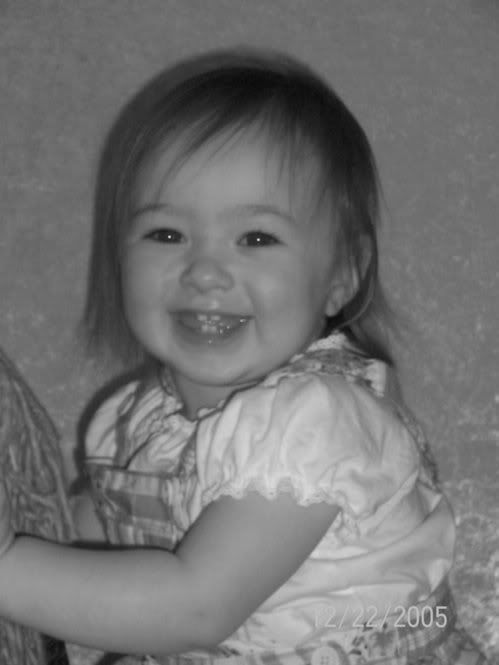 She is riding her rocking horse....I guess it kinda looks like she is cuddling with a mop, but it is the horse's mane.
Saturday, November 26th, 2005
---
4:43 pm
Wednesday, October 12th, 2005
---
1:15 pm
- I suck at LJ
I have been gone forever! There are some reasons, but mostly I am lazy about livejournal. We moved into our apartment finally, and let me tell you that took forever. We didn't want to rent a uhaul or anything so we used our cars and my Dad's pickup. We took our sweet time, basically brought over a load or so every few days. We have nice new couches and a dinning room table though, I like that. Caitlin really likes the 32inch TV that my Dad gave us. Apparently Elmo's World is much better on a bigger TV. LOL

Speaking of that, Sesame Street Live is going to be in Durham in December, I want to take Caitlin because the show is called "Elmo's Coloring Book" and she LOVES Elmo. She calls him "LALA" and cries for Elmo toys, or elmo shoes, but,I am not sure if she is too small. Oh and she is not having Elmo shoes....I hate character shoes, we did cave though and got her Elmo slippers that she talks to.

Another reason I haven't been on lj is because my lovely, cute, sweet little 1 year old crashed my hard drive and it took 2 weeks to get it fixed. She turned my surge protector on and off multiple times one day and then the next day the computer wouldn't boot. Best Buy said she fried the hard drive by making the computer think that there were power outages....I dunno...they called it some weird thing like "boot loopitis."

I do know that I will NEVER take something to Best Buy to be repaired again. They quoted us 5 days to repair the computer, 7 days max. Well day 5 they tell us it will be done "tomorrow", "tomorrow" they say TOMORROW and that goes on until day 14. When Shawn calls up to see if it is done yet, well the moron who answered the telephone was not smart enough to at least cover the phone before he says "there is some guy on the phone wanting to know if his computer is done and ya know what I want to tell him? I want to say Did I call you yet? No I didn't! Apparently it isn't done." The moron's manager knocked well over $100 off our bill....so we were happy.

It's so damn cold here today. I don't like it. Well I do like the weather, but I don't like it being this cold in my house. This weekend will be nice for going to the pumpkin patch I think. As long as it doesn't rain again. I wanted to go last weekend, but the rain was horrible. I also want to take Caitlin to Sears for pictures in her Halloween Costume, we took her last year and they came out so cute I really want to do it again and she looks adorable in her little bee costume.

I can't think of much else to write about and my coffee is done, so I am about to go get a cup...Hopefully I will be better at lj now! We have a cable modem now, so it shouldn't be nearly as annoying to update. LOL
Saturday, August 6th, 2005
---
3:42 pm
Pictures with no cut, just because I do that sometimes...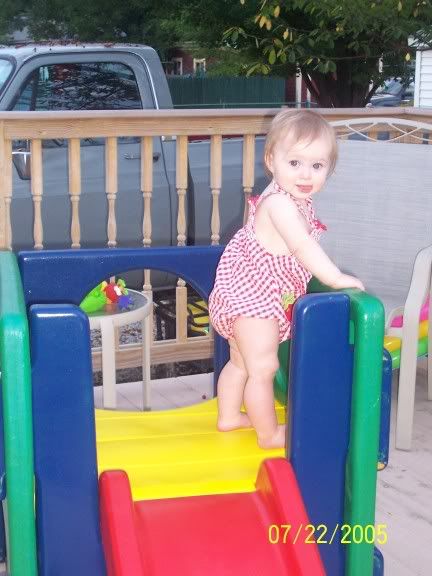 Playing in her slide thing on the deck.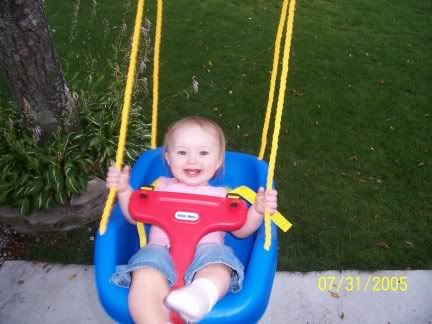 Caitlin loves to ride in her swing.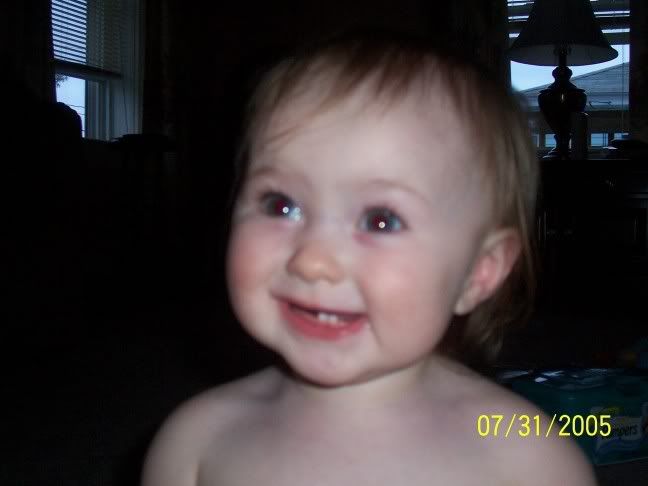 She loves Toby Keith...this is a picture of her watching the "as good as I once was" video.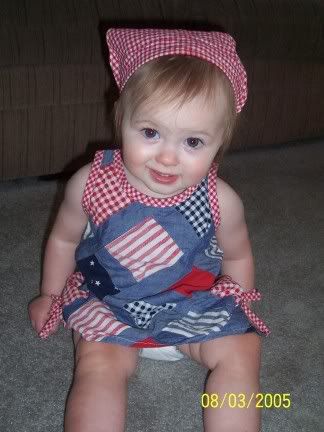 All pretty and ready to go out with Mommy.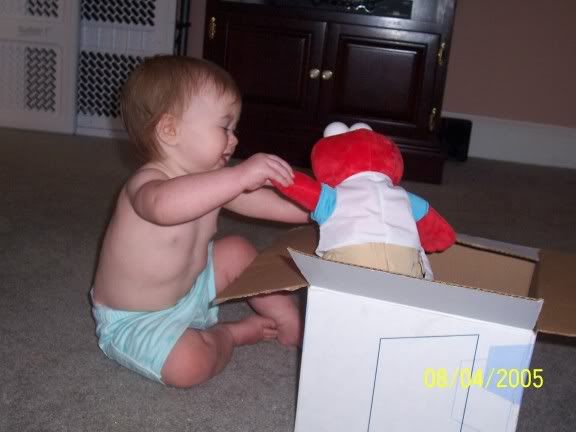 Opening an early bday gift from Shawn's mom. Her shirt was dirty so I took it off her and didnt put on back on. LOL
Friday, July 1st, 2005
---
11:18 pm
- There's nothing I can say...I'm never gonna change your mind...
I wish I had someone to talk to that isn't Shawn. There is a lot going on in my head and I don't know what to do about any of it. I've tried to talk to him, but he just dismisses everything and makes me feel like it is not REALLY how I feel. :(

current mood:
confused
Thursday, May 19th, 2005
---
1:38 pm
Wednesday, May 11th, 2005
---
2:53 pm
- Sooooo very bored....
I am so bored today. Shawn is at work until at least 8pm, he has the car and it is beautiful outside. I really wanted to have the car so that I could take Caitlin to the park. Shawn dentist appointment ran to long though and he had to head straight to work. sucks.

Maybe I should just get up off my butt, put sunblock on Caitlin and take a walk. There is a park near by but it isn't exactly one I would want to take her too by myself. She does love going in the stroller though and it might be good for my fat ass to just get out. LOL

Sometimes I hate that we gave the explorer to Shawn's mom but it was really old, may not have made the trip to NH and she needed something better than her van. Shawn is doing awesome at his job though, so it shouldn't be too long before we have a 2nd car, I want an apartment 1st though. Living here isn't the ideal, but we are making the best of it. Most likely we will end up with some sort of Honda as he is working for Grappone Honda. LOL I want a CRV but we will probably get a civic or an accord, sedan of course no more coupes for us, my car is way too much of a pain with the "big girl" carseat rear facing, gotta keep my little buggy safe though.

ALright I am really really gonna get up now and take Caitlin outside. I think she has had enough of playing with her rollarounds.
Thursday, March 24th, 2005
---
10:02 am
Holy Crap!
Shawn got offered a job yesterday selling cars in Bow, NH!! I think that means we are moving and that we will actually have money. Wooohoo.

Oh and he gave me a diamond ring on 3/11 but things aren't offical yet because the ring has to be sized. Apparently the jeweler didn't believe that my finger is a size 5. Doesn't seem that small to me but they want me to go in to have it sized and since we were in NH until monday evening I haven't had a chance yet.

I have pictures to post of Caitlin's 1st trip to the park on tuesday, I just need to load them onto photobucket so watch for those! She loves riding the swings at the park, it is so cute. I tried to take a video of her swinging and laughing but there was a dog barking and you can't hear her over the dog! Damn Dogs.

Speaking of dogs Caitlin loved my parents dog. I was holding her up on her feet and she was "stalking" the dog around the living room. LOL I can't wait to get her a puppy.

current mood:
excited
Sunday, February 27th, 2005
---
11:30 am
- 6 month Proofs!!
We had Caitlin's pictures done yesterday at Sears. They came out so awesome. She did such a great job with the picture session that the photographer took 13 different poses instead of the usual 6. Which of course made it IMPOSSIBLE to pick just one for the package. We picked the 3rd one of the top, but I want to go back in a few weeks and get more!! LOL Oh and I am leaving it big and not putting it under a cut cause I am a bitch like that!!


Thursday, February 17th, 2005
---
1:17 am
I forgot that I wanted to put these pics in the last entry. They crack me up.
Caitlin loves to play with this little hat that she wore a lot this fall. These are pictures of her trying to put it on.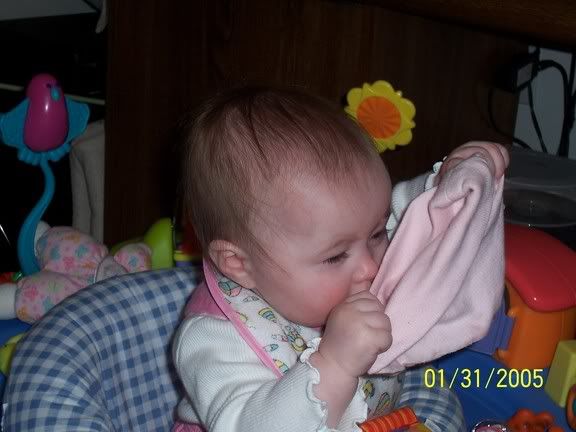 "hmmmm...my hat."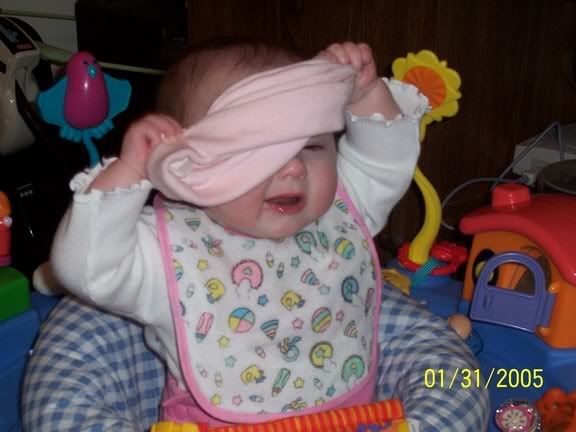 "I think this goes up here somewhere."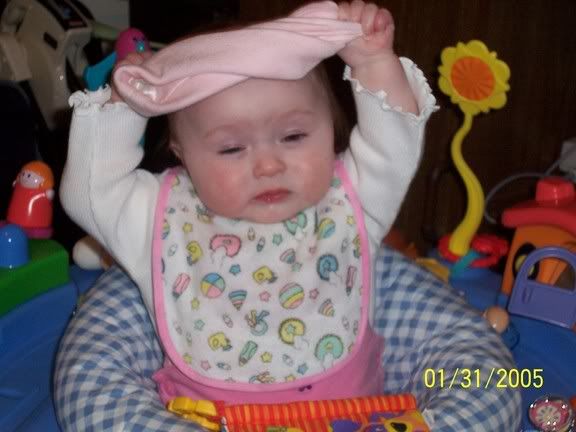 "Yup up here seems to be about right."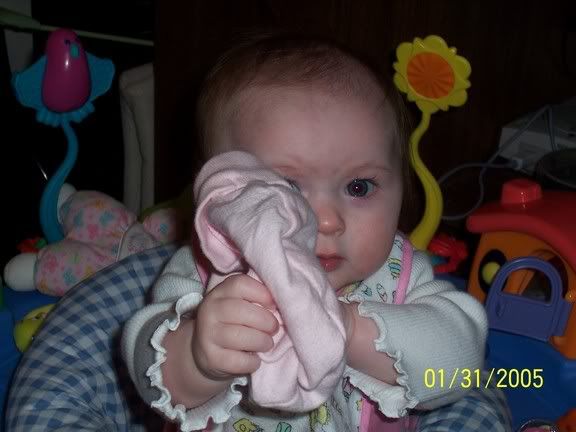 "Here mommy, give me a hand with this."
12:39 am
- She dreams a champagne dream....
So lets see here. Everything has been going pretty well. The little booger is getting so big (she laughs when I call her booger, don't ask) she will be 6 months old on the 22nd. WHERE HAS THE TIME GONE? I swear it was just it was just days ago that I was pregnant, overdue and thinking that she was never ever going to be born. She really amazes me more and more everyday. She started sitting up 2 weeks ago. :( She rides in her "big girl" car seat and LOVES her stroller now that she isn't in the infant seat. She makes the craziest happy/excited noise whenever we go into the pet store at the mall, she laughs at the birdies and stares at the puppies when we hold them and show them to her. She stared giving hugs last week too. For a few days I was the only one that she would hug, but then Shawn got her out of bed saturday morning and she gave him a hug. AWWWW! I love to sit on the couch and stand her up on the coushion next to me because she just keeps giving me hugs, letting go and then doing it again. She eats a little bit of food,not everyday though, just here and there for practice bananas, oatmeal, applesauce and sweet potatoes. We tired rice cereal too and she liked it for awhile but now she doesn't care for it, same thing with applesauce, she only likes it mixed with bananas or oatmeal. She doesn't get any jarred food either, I make it all because it is so much healthier.

Okay....enough of that...on to other things...

Shawn and his Dad got into a BIG fight at work. Not so good. Apparently his Dad denied all the crap he has said about me/my parenting skills, the only problem is he said all the stuff TO SHAWN!! arrrgh. When/if we move life will be so much better. My parents seriously do not butt in. They let us do what we want and feel is right with Caitlin...because...well...surprise surprise...she is OUR daughter.

Thank you Andrea
choosestarlight for the user pic! I love it soo much. You are the sweetest person ever! :-)



(

Pictures under hereCollapse

)
Thursday, February 3rd, 2005
---
7:20 pm
- I didn't die...
really I didn't. I just took a little break from lj. Not really anything to post and all that. At the momment I am uploading photos to photobucket. Which takes forever because of dial up. But I shall update with photos sometime soon. Probably tonight after the little one has her bath and goes to bed....

For now this should hold you over! LOL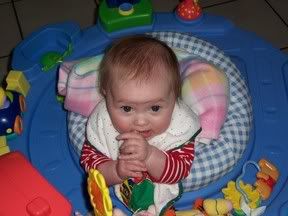 Tuesday, December 14th, 2004
---
2:45 pm
- Been a long long time!
I haven't written in soooo long. We had to re-install windows after i got back from NH, so i lost my lj client and I HATE HATE HATE updating from the site. But i guess i will, since i want to post more pictures and all.

Let's see...things here are pretty good. We have just about all of christmas shopping done. We just need to buy a few little things and batteries for Caitlin's toys. She is getting so much more than we planned on. It seems as though everytime we see something we just "have" to get it. We will be in NH for christmas, I am so excited for that. We are leaving as soon as Shawn gets out of work on the 22nd, then he has JOB INTERVIEWS on the 23rd. WOOOHOO!! That means we are just that much closer to moving.

Shawn's Dad is not happy at all about our moving, he was just trying yesterday to talk Shawn out of it. We are going though, or at least Caitlin and I are. I can not take the shit that Shawn's Dad is putting me through, little by little he is ruining my self esteen and my relationship with Shawn. I'm going to go crazy if we don't get out of here soon.

With that said....the following 2 pictures are what we had made for Shawn's parents christmas present. I don't even want to give them to his Dad anymore...his Mom can have them. The little boy is Shawn's 6 year old nephew Cody.



This is the package shot.



I just love how her little tongue is sticking out in this one. She thinks that is sooo funny. Also she thinks blowong raspberries is so funny. Except she doesn't do it right...she blows spit bubbles and then sticks her tongue out.


The next ones were just done on saturday...which means we have to pick them up on our way out of town in the 22nd...see what i get for waiting...ugh.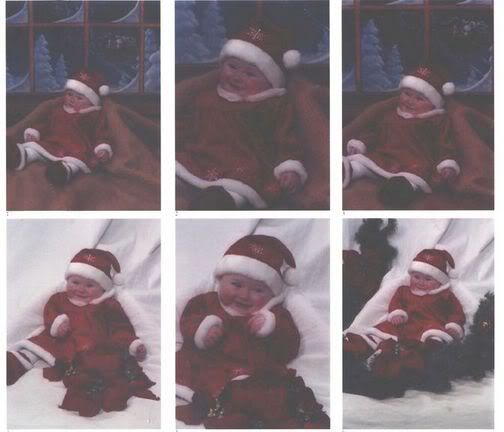 The package is the middle one on the bottom. I am sooo happy with all of these, because the photographer was great with Caitlin and got her to smile for everyone.

current mood:
crazy
Wednesday, November 17th, 2004
---
12:33 pm
- WOW..this is a little freaky.
Here are 3 pictures of me when i was about 4ish months old, Caitlin is just about 3 months now. Please excuse the quality pictures were obviously not the same in 1982.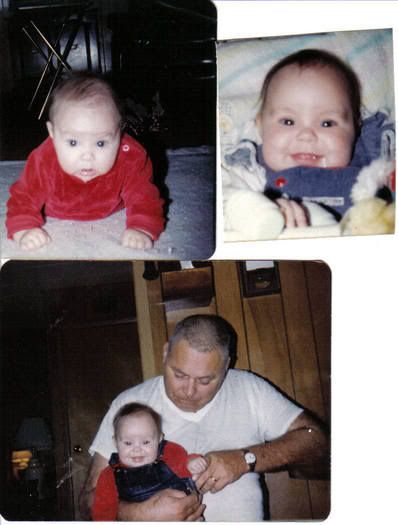 For those of you that read my journal often and see Caitlin's pictures, doesn't she look just like her Mommy? She does have her Daddy's eyes though. I sent these to Shawn last night (Caitlin and i are in NH visiting my parents) and he thought that the top one in the red shirt was Caitlin.
Thursday, November 11th, 2004
---
5:51 pm
I'm bored, Shawn is at work till 10 or 10:30pm and Caitlin is napping in her swing. She is sooo darn cute. She is holding her baby doll upside down and keeps leaning forward in her sleep as though she is either going to climb out of the swing or reach something off of the tray. She was playing with her burp rag a whole bunch today and that was adorable too. In fact she liked playing with it soooo much that i went anf got her a clean one to play with.

She really should wake up so i can play with her. There isn't really anything left for me to do. I have already cleaned the living room, the kitchen, the bathroom and washed the dishes twice. I suppose i could go clean Caitlin's room, but well i don't really want to right now. It isn't really a mess anyways, i just need to pack away things that don't fit her anymore. Which is bassically just her overalls and summer clothes, the summer clothes would still fit, but the weather isn't right for them obviously. It's kinda sad that at my baby showers i mostly got summer clothes.

My mom is coming here tomorrow sometime. Then Caitlin and i are going back to NH with her for the week, then we will catch a ride back here with my Dad on saturday, he will be here for hunting season. I can't believe it is hunting season already. It feels like it was just barely August and i was waiting and waiting to go into labor. Time flies now.

Well i guess i should go and try to find something to do. I might post another entry later with pictures and such, because there are quite a few on my camera that need to be posted.

Oh speaking of pictures, we took Caitlin to Olan Mills yesterday to have pics taken with Cody (Shawn's nephew) to give to Shawn's parents for christmas. I hope they came out good, i have to go pick them up on 12/1. They also took some cute ones of Caitlin alone, i am sure we are going to want to buy those as well. Especially the one of her on her belly.
Monday, November 8th, 2004
---
5:45 pm
- my little girl is getting so big.
Caitlin is growing up. I don't like it. I ALMOST have baby fever...but no. It would not be a good time at all to have another baby. So unfair to Caitlin, Shawn and myself. She is wearing her carter's bunny overalls today and she most likely won't be able to wear them again. That makes me sad, they are one of my favorite things for her to wear. They are still HUGE for her in the waist area, but they are just touching her anles now. She is outgrowing things in height long before she does in the waist. Most of her 0-3 months pants fall off her still, but anything Overalls or one piece outfits are getting too short. I already had to pack away her white children's place overalls. :-( I dunno what i am going to do about clothes for her though, because she seriously swims in 3-6months clothes.

We are almost done xmas shopping for Caitlin. So far she has her "big girl carseat" (Evenflo Triumph), a small link a doos toy (we bought 2 of these but already gave her one), bowls, spoons, purple fleecey jammies and i just won on Ebay brand new Gap Hoodie. I had to get it for her because I never see hoodies this small....usually i can only find them in 6months and bigger. We want to get her maybe some more outfits, this soft stearing wheel thingie for her carseat and a piggy that snorts. We want to get the piggy because whenever Caitlin is mad she snorts and it is hilarious. The last time we were at the mall, we walked by the toy store and Shawn heard the pig toy in there and he said to me "Why did you leave Caitlin in the toy store?" Sooo funny, because it sounds just like her.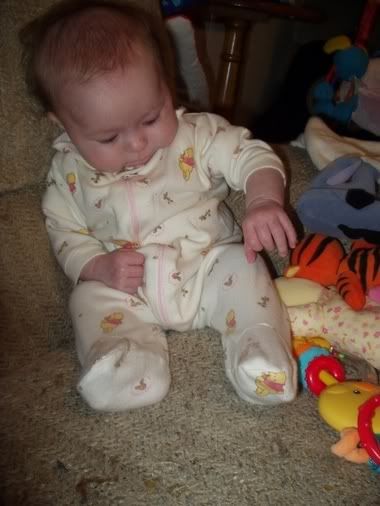 Inspecting my jammies before bed.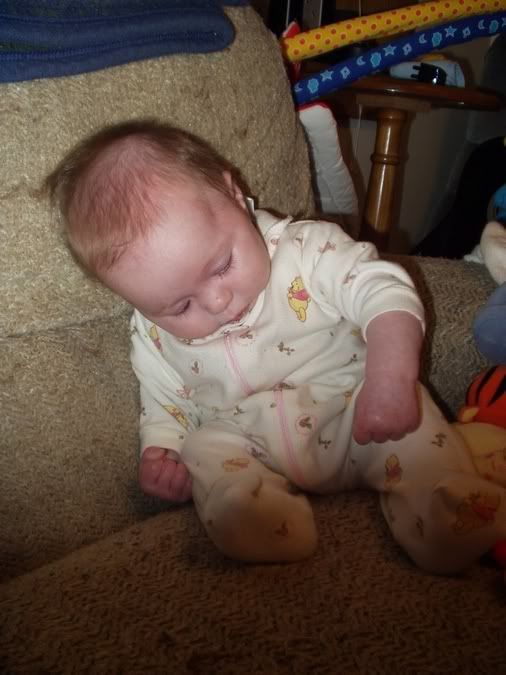 Quality Control Inspection by Caitlin V. Scott.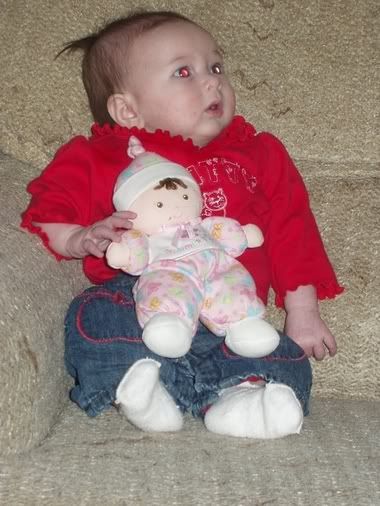 Excuse the red eyes...But here she is cuddling with her baby and watching her Daddy play the guitar and sing for her. Don't you just love the look on her face?
Tuesday, November 2nd, 2004
---
11:30 am
- Long time no write.
I don't update often anymore as my life is pretty boring, but i wouldn't have it any other way. Caitlin means everythingt o me and i can't even remember when i didn't have her with me. I am considering going to work after christmas, so that Shawn can quit his 2nd job. The thought of it makes me cry. I don't want my baby spending time during the day with someone that isn't me. I am only going to work probably 3 days at the MOST but still...my baby doesn't know anyone but me and her Dad. Poor girl will be hearbroken.

Next sunday (the 15th i think) i am going to NH for a visit. My mom is coming to get Caitlin and I on friday and then we will come back with my Dad on the following saturday. Shawn can't go. His job won't give him time off now. It sucks, we were suppose to go to NH as a family the 1st week of october, he couldn't get time off them either. We are going at Christmas, no matter what his job says. I am kinda nervous about leaving Shawn here for a week without me. He's never really given me a reason to not trust him, but i still have a very bad feeling. We'll see how it goes.

My baby is so cute now. She has this little pink rattle doll that she LOVES. We give it to her and she grabs it, hugs it, brings it to her face, sucks on it and squeezes it tight all with this huge smile on her face. Actually that is what she is doing right now in her swing next to me. I need to get pictures of that. I have pictures of her in her halloween costume that will be under the cut. I also took some cute black and white pics of her in her diaper and Shawn took some her "inspecting" her jammies yesterday. They are still on the camera though and i will probably upload them to the computer later.

Shawn's Dad pisses me of A LOT. I use to like him, but now i think he is going to cause Shawn and i a lot of problems. He tends to give us all this CRAPPY parenting advice, as if he knows MY daughter better than i do. I don't think so, you see the keyword there was MY daughter. Shawn and i know her better than anyone else could. He seems to think we should just "let her cry" because apparently it is "good for her lungs." No thank you, my baby gets what she needs when she needs it. He also said the other day that we should FORCE.....yes i did really say force.....her to eat 5 ounces and see if she throws any back up. Apparently according to him 4 ounces or less every 3-4 hours is not enough. Well i don't believe in forcing my child to eat when she doesn't want it. How could i force her to eat more anyways? Some feedings a day she won't even eat the 4ozs and i don't see anything wrong with that, just like everyone else sometimes she probably isn't as hungry. On Halloween Caitlin wasn't really happy about her costume. It was kinda warm for her and she is not a huge fan of hats. Well while we were down at Shawn's Dad's i said to Shawn, "bring her here and i will take her costume off, she's just too warm." Well this costume was a bunting thing, closed at the bottom, so his Dad says "it's not that it's just that she doesn't like her feet all held in like that." NO....sorry that wasn't it. She has jammies that are just like that, and she wears them and doesn't care....actually seems to like them. That wasn't really terrible...it just made me mad that he thinks he knows her better than i do. Also his Dad and step-Mom think that if she doesn't cry with TEARS that we should respond to her!!! WTF? My baby never has tears unless she is hurting. Therefore i would never respond to her. ARRGH .... i need to go before my head explodes.

Okay....you get some chocolate cake that i made yesterday if you read my rant up there! So if you made it this far don't forget to look under

(

hereCollapse

)
Saturday, October 23rd, 2004
---
3:04 pm
- Happy Girl
Thursday, October 21st, 2004
---
2:20 am
- LIAR!!
Okay i lied in my last entry....
I found a picture of Caitlin's halloween costume....i just had to do an image search for it. Apparently it is not available on the site we bought it from anymore.

Costume
2:16 am
- We are here to help each other get through this thing....whatever it is.
I haven't written in awhile. Not much to say i guess, i don't really do a whole lot and actually i like it that way.

We bought Caitlin some winter clothes from old navy like 2 weeks ago. She got cargo jeans, light colored cargo pants, a striped shirt, 3 pairs of "comfy pants" and 3 body suits to match the "comfy pants". She also got apple patch jeans for the Gap, so cute because they go with her little coat! i can't believe that 0-3months clothes are still too big for her. Seriously most of the pants fall off when we hold her up! I am going to cry when she outgrows this size. I am already so sad that she will be 2 months old on friday. It seems like it was just a few days ago that i was still pregnant and wondering if she was ever going to make her appearance. I can remember her birth like it was yesterday, except for the pain, the pain has faded so much.

Lets see....what else...Oh! She started cooing a lot this past week. We tell her that she is "talking" or telling us "stories". Some of her little sounds almost sound like words which cracks me up. Especially the one that sounds like "umm...yeah" She tries so hard to copy the faces that we make at her....which is hilarious. Last friday we took her to Olan Mills for pictures in her Halloween costume, mostly just because i found a coupon for a free package in one of the many freebie bags i got during the pregnancy. I hope they come out decent because her costume is sooo damn adorable. Of course i can't find a picture of it online right now, but i will post pictures of her in it soon. It is a pink and purple lepord kitty bunting. We bought it before she was born, but i wish we had waited because old navy had adorable piggy costumes and well she snorts like a pig when she is mad, so i call her little piggy a lot.

I wish i could sleep! I just laid upstairs in bed for an hour and a half and couldn't sleep. I need to get some sleep because this past week my sweet little baby has gotten me up just after 5am. Before this she had been sleeping till at least 7:30am consistently. Once i am up with her, i have a hellva time getting back to sleep, she falls right back to sleep after she eats, but i can't seem to, until of course the time she wants to get up again!! Oh well...i love her bunches anyways.

current mood:
annoyed